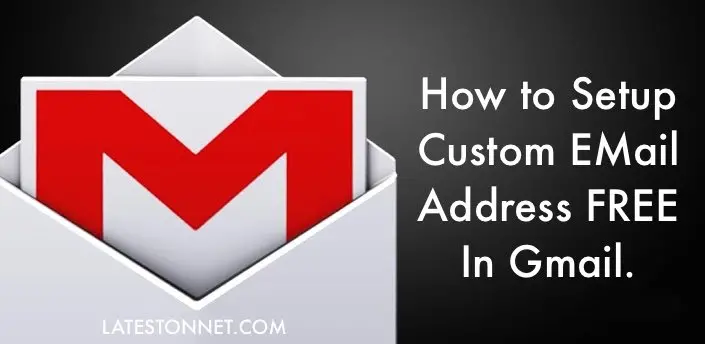 Wants to use customized business email or custom email address with domain for your business and that too free of cost? Then this tutorial is for you. We'll guide you, how to create free email address with your brand name/Business name using your Website Hosting Account and show you how to use Gmail for FREE custom domain email address for easy access. First we'll introduce you with Professional or custom email address.
What is Custom Email Address?
Custom Email address/Professional Email address is email address which have your Business name/brand name in it such as support@yourbusinessname.com (Here, it shows this email account is dedicated to support section of your Business where yourbusinessname.com is your domain name). If you're a brand or long-term business you should create and setup custom email account for every section or employee for branding and professionalism.
How to get a Custom Email Address?
To get a custom business email address, you must be having a domain, after all your custom email address will be based on your domain.
There are many ways to get and setup a custom Email address some of them are paid service like Google Apps that will costs you around 5$ monthly per user, Domain registrar like Bigrock that provides 5 custom email address FREE along with the domain and the Web hosting way where if you've complete access to your hosting, you can setup FREE professional email accounts that we'll discuss today. However, there are some free custom email services too to setup and manage custom email address like Zoho but they all have some limitations and not have much features if we compare it with using custom email in Gmail.  Lets have a look to benefits of using custom email with Gmail.
Benefits of Using Custom Email in Gmail
1: Lots of FREE Space : Gmail provides 10+ GB free disk storage so you can easily receive as many attachments as you wants and it's too easy to extend the space in Gmail with a click.
2: Easy to Search : Gmail uses the Google search Technology that gives you instant exact results, even if you type a keyword to search.
3: Less SPAM : Gmail has the world best technology to recognize spam mails, so mostly spam mails Gmail deletes before it reaches to your spam folder.
4: Amazing Features : Gmail is the world's best email client with amazing features like, you can easily chat with the clients, share files (you can use Google Drive for sending larger files), use canned responses, one click to call using Gmail Phone service and that too free in the countries like USA and Canada and can get lower rates to other countries.
5: Best Security : Gmail uses the 'HTTPS' encryption and two-step verification method to secure your mail and account.
6: All this for FREE of cost : You don't have to pay a penny for using your custom email address in Gmail.
We're taking Hostgator Hosting as an example in this post to set up free custom email account with hosting account. You can use the same guide for other hosting providers too. So, lets get started with the tutorials:
Requirements:
1: Gmail Account
2: Access  to Hostgator Hosting Cpanel
Create Free Custom Email Address
Step 1: Go to your Hostgator Cpanel and from the Mail section and click 'Forwarders'.
Step 2: Click 'Add Forwarder' and enter your custom email address you wants followed by your domain from the drop down menu. For Ex. In my case, i wants govind@www.latestonnet.com, so entered govind in first text field and selected the domain from the drop down menu.
Now, in destination section, enter your Gmail email address from where you wants to manage your custom email account mails and click 'Add Forwarder'.
3: Again go back to your Hostgator Account Cpanel, and same in mail section, click 'Email Accounts'.
4: Enter your custom email address, that you entered in the step 2, enter password (you can use password generator to create strong password, but don't forget to save password in a notepad file, as we'll need them later on) and in Mailbox Quota, enter 100 MB to save disk space on your hosting account and click 'Create Account'.
Great! Your custom email address account created now we will learn how to setup custom email with Gmail account, so that you can directly send mails from Gmail account instead of using the Hosting provider's 'Webmail' service. Don't close your Cpanel window, just minimize it as we'll need it again later on.
Setup FREE Custom Email With Gmail
Step 5: Login to your Gmail account that you've given in Step 2 above . Click the gear icon in the right side and choose 'Settings'.
Step 6: Choose 'Accounts and Import' from the settings window (See the second last screenshot from the bottom)
Step 7: Under 'Send Mail As' click 'Another Email address you own'.
Step 8: A pop-window will appear enter your name or business name in the name field and custom email address you created on your hosting account in the second field and hit Next Step.
Step 9: Now, it will ask for SMTP server and SMTP port no. along with the custom email address password that you saved in notepad file. So, we need SMTP server and port number for that again get back to your Hostgator Cpanel and in mail section, click 'Email Accounts'.
Step 10: Now, here you'll be shown your custom email address you created. Just Click 'More' in front of your email address and select 'Configure Email Client'.
Step 11: Now, here you'll get SMTP server and SMTP Port Number. Head to 'Manual Settings' (left side) and copy the 'Outgoing Server' and 'SMTP Port' in a notepad file.
Step 12: Get back to the Gmail pop-up window. Enter SMTP server you copied from Hostgator Cpanel, SMTP port will be 465 unless you're using SSL secured connection, Enter username as your full custom email address (For ex. in my case govind@www.latestonnet.com) and in last text field enter password you copied to that notepad file. Choose 'Secured Connection Using SSL' and click Add account.
Step 13: Now, it will ask for verification code or link to verify and that you'll be find in your Gmail inbox. So, just minimize this pop-up window and go to your Gmail inbox, there you'll find a verification mail from Gmail, just open it and copy the code given or click the long link to verify. If you go with code, then just enter the code in that minimized pop-up window and click verify.
Congratulation! You've successfully setup your free professional email with Gmail. Now you can send and receive mails to your custom email in your Gmail inbox.
 How it Works?
You'll receive all your mails to your custom mail in your Gmail inbox as we've forwarded all mails to your Gmail address and to send any mail from Gmail as your custom email, you've to select custom mail manually while sending a mail from Gmail or you can follow the tip below to send mail automatically from your custom mail.
Bonus Tip: If you want to send all mail from your Gmail account as from your custom mail, just hit 'gear' icon from right side and click 'Accounts & Import'. Now select your custom mail address as default, to do so just hit 'Make Default' link and in "When replying to a message:" section select "Always reply from default address".
That's it. Now, you don't have to select your custom email address manually while sending mail from Gmail, it will automatically send from your custom email address even if you send through Gmail, take a look to the below screenshot.
Hope you liked our tutorial and it helped you to setup free custom email address with Gmail. Don't forget to, share it with your friends and in case if you've any kind of doubt, you can drop it in the below comment section, we'll reply it as soon as possible.