I'm into Amazon.com (US) Affiliates from last year Black Friday and earned thousands of dollars till date. Since I'm from India and amazon.com pays through only cheques; there's no direct deposit or wire transfer facility available for Indian affiliates like Google Adsense.
So, if you're from India or from a country where the Amazon Direct Deposit is not available and then this how-to guide is for you which will explain how you can get your Amazon U.S. affiliate Payment through direct deposit within 24 hrs.
Issues with Amazon
One thing I didn't like of Amazon is that you can't track your cheques (I don't know Why they do so) as these are sent through Normal United States Postage and it'll take around two weeks to reach Metro cities in India and can take up to a month if you're from other cities or rural area. Many times my cheques returned back to Amazon, Seattle without even any notification. And if you're cheque once returned, you've to report it from amazon.com affiliate account and ask for re-issue. It'll again take 1-2 month to get and encash it. Once you get the cheque you've to again wait for another 10-15 days or more depending on your bank to encash it. So, basically I was totally fed up from this Amazon affiliate payment method and I started looking for an alternative to this.
One day I posted the issue on Twitter and @Payoneer hit me back, Hey you can use Payoneer to receive your Amazon U.S. affiliates earnings, it's fast, low-fee and secure. And after some research on Payoneer, I created the account on Payoneer.com immediately and it took around a week to get my account approved. But these days you can get your account approved within 24 hrs.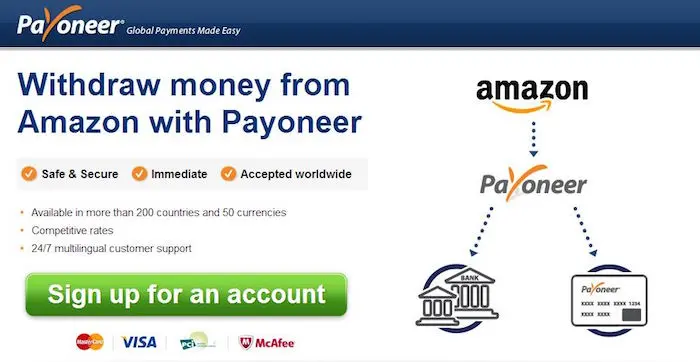 Yesterday, I got my Amazon.com affiliate earnings through Payoneer and I'm pretty impressed by their service. Amazon usually dispatch the cheques or do direct deposit (Only for US, UK Affiliates) on 28 of every month and you'll be surprised to know on 28 September itself I got my earnings in my Payoneer Account and on 29 I got my earnings in local currency directly in my Indian bank account. And the best part is, I didn't have to pay so much fee for this transaction.
Now, if you're from India or from other countries where the Amazon Direct Deposit is not available like Pakistan, Bangladesh, Sri Lanka, Nepal etc. then you must be thinking how can I get rid of this Amazon cheque method and opt for Payoneer to receive my affiliate earnings. Don't worry, I'll explain you each and everything from changing your payment method to receive funds but this article may no longer so grab a coffee and relax.
What is Payoneer?
Payoneer is Global Payment service which allows you to get your earnings from US & European companies directly in your bank account in your local currency at minimal cost. You'll be provided with a US bank account number and routing number that you need to give your affiliate company to receive funds. It's like you have an account in US & Europe. Payoneer supports all big companies from US & Europe like Amazon, Google, 99Designs, Elance, oDesk, Getty Images and much more. Click here to check the list of Payoneer supported companies. Still, have any kind of doubt about Payoneer? Watch this video:
What about the fee & Exchange rates In Payoneer?
This is the question we ask when we hear about any new payment service and here are the answers when it comes to leader Payoneer.
Receiving Payments: Receiving both US & Euro Payments in Pioneer is completely free.
Withdraw funds: The main thing is withdrawing funds and exchange rates. Transferring funds to your bank account are again free in Payoneer means you'll get the exact amount of dollars or euros that company has sent you. Now, you must be thinking how is Payoneer earning then? 😉 Read the next paragraph.
Exchange Rates: Payoneer provides the best exchange rates if you compare to other Global financial services like Paypal and others because Payoneer conversion rates based on the official mid-market rate at the time of transfer. Mid-Market here refers to the middle point between the currency's official "buy" and "sell" rate and is considered to be one of the best rates available. You can use the tools like XE to estimate mid-market rate.

In addition to the mid-market rate, Payoneer applies a currency conversion charge of 2% and that's the only Payoneer fee for receiving funds to your Payoneer account to transferring and withdrawing funds in your local bank.
Note: Payoneer doesn't show exchange rates in your dashboard if you want to check the exchange rate for your transaction go to this Mastercard page and it'll show you the exchange rate after selecting the date of the transaction. The rates shown on this will be in 'USD per 1 INR', if you want to check out exact mid-market exchange rate you got, check XE mid-market.
Payoneer Purpose Code
Recently I've received a couple of queries from readers asking for Payoneer Purpose code. Purpose Code is nothing, it just describes the nature of Foreign Exchange Transaction that helps RBI to identify and classify the Forex transactions. So, you need to select the purpose code which accurately describes your business transactions. Here are all the purpose codes from RBI along with Purpose description to give you an idea of which purpose code is suitable for your Business Transactions.
In the case of Amazon.com affiliate, the purpose code would be Advertising, trade fair services (P1007) that include services related to SEOs, SEMs, Social Media, Web Designing and even Internet Marketing. So, if you fall into this category then just select this purpose code and click update.
Payoneer Limit For Indian Users
Single Transaction Limit INR 5,00,000.
Daily Payoneer to Bank transfer limit is INR 5,00,000
Monthly Payoneer transaction limit INR 2,500,000
Sign up For Payoneer & Earn $25 as Bonus
Payoneer is running a special offer for new users where you can grab $25 as the bonus when you receive at least $100 from any company supported by them. To grab this bonus all you need to do is sign up using the below link and wait for your first 100$ payment from Payoneer.

Lets Get Started
Step 1: First you need to create an account on Payoneer and I've hope you've already created an account using the above button and grabbed $25 Payoneer bonus. If not, Click this link to register and grab the reward. If you would have clicked this link, you'll see a page something like the below screenshot, enter your personal details as shown and click next to enter your contact details.
Step 2: Next enter your correct address associated with the bank account number followed by zip code and your mobile number. You may have to verify your number so enter the one which is active and you've access to.
Step 3: At the next step you need to enter your bank account details followed by IFSC code. Do make sure all the details are correct; double-check them.
Step 4: At the next step, just enter your password followed by a security question.
Woah! You've successfully created your account on Payoneer. Now, Payoneer team will review your details and within a day or two, your account will be approved. Once you get an approval email, just log in and it'll ask to create two security questions for account safety purpose. After updating the security questions, you'll be redirected to your Payoneer dashboard.
Now, click on 'US Payment service' from your dashboard and at the bottom of the page, you'll see a kind of cheque with your name, a/c details, routing number etc. (As shown below). These details we need to give to Amazon people so that next time your earnings will directly transfer to this account and then Payoneer will transfer it to your bank account directly.
How to Change Payment Method In Amazon Affiliates to Payoneer?
Step 1 :  Go to your amazon.com associates account and click 'Account Settings' link at the top right and then click 'Change Payment Method' OR click this direct link that will directly take you to payment method page, of course, you need to login first.
Step 2: Now, I suppose you're on Payment method page. If yes, then change your payment method to ' Pay me by direct deposit (The United States Based Associates Only)' don't be surprised now you have an active US bank account now 😛 And copy the details from that Payoneer 'US Payment Service Page' and paste on this Amazon web page. Again double check this details. Once you entered all the details and verified them click the submit button at the bottom.
That's it, folks. You've successfully changed your amazon affiliate payment method and next time you'll get your earnings through Payoneer itself.
Do comment below or Tweet me if you're facing any kind of issue in this process. Stay subscribed to my newsletter to get awesome stuff like this.
References: