If you have been using the Canva free version, the chances are that you have created many good designs. But did you know that you can do a lot more with the Canva Pro Subscription aka Canva for Work?
Today, we'll be digging a bit into Canva Pro and checking if it's worth upgrading.
So in this detailed and comprehensive review, you will find everything you need to know about Canva Pro – from what it is to whether or not it is worth an upgrade.
Let's cut to the chase.
Why A Design Tool, Seriously?
I get it – why would you need a design tool when you can use other content creation techniques? Well, According to a report by Canva:
79 per cent of businesses find it time-consuming to design marketing materials
And 87 per cent wish that design was more straightforward
Yet, 78 per cent of people agree that non-professional designers can create graphics by themselves
60 per cent are not confident with the designs they make.
While many people struggle with creating visual content for their marketing needs, Canva Pro can make designing social media and website graphics a lot more straightforward.
And if you don't know what the heck Canva Pro is, this detailed review will walk you through everything you need to know about Canva. That said, let's discuss what Canva is, shall we?
What is Canva?
Canva is a graphic design tool that helps professional designers, small businesses, and many other individuals create graphics – social media, blog, posters, presentations, documents, and other visual content with just a few clicks.
The design software is free, and you can get started by signing up with your email (No Credit Card Required). However, you can upgrade your subscription to paid plans – Canva Pro and Canva Enterprise and enjoy additional features.
Canva Pro is the premium version of Canva, and it comes with extra features, such as the ability to resize your designs. You can access a couple of beautiful images starting at $1, but you also have an option to upload and use your images. All the same, there are more than 400K free images that you can use without any additional costs.
There are many templates on Canva, and you can use any of them depending on the type of graphics you want to create. For example, if you're going to create an Instagram post, you can navigate the Instagram post templates and choose one template you love. You can then tweak this template to match your brand.
The above are just a few of the benefits that come with Canva Pro, but what if I showed you some of the pros and cons of Canva Pro, based on user reviews on platforms, such as Capterra, G2, and Trustradius? Here we go:
Canva Pro Pros
Ease of Use – Canva is known for its simplicity and ease of use. Everything is organized and you don't need any training to understand the interface. Additionally, Canva has an excellent UI that prompts a new tab whenever you want to create any design.

Multi-Purpose Tool – You can use Canva for work for nearly everything – from graphic design, creating and sharing folders, making animation designs, and most importantly, this tool allows you to collaborate with your team.

Templates and Designs Database – Canva is preferred by many graphic designers because it has ready-to-use templates. Whether you want to design a TikTok or Instagram graphic design, Canva for work will come in handy. Even more, Canva for work has a collection of more than 1.5 million images you can use.

Collaboration – Canva Pro allows you to have and organize your team for better collaboration and communication. This feature allows you to share folders, your designs and templates with your team.

Integration – One of the best features of Canva Pro is that you can integrate many third-party tools, such as Giphy, Facebook, Dropbox, Instagram, among other tools and platforms.
Canva Pro Cons
Not Standard Image Search Feature – Canva should do a bit of work with their image search feature. There isn't any filter option, so it can be quite challenging to find images you are looking for. For example, it would help if they included filter options for paid and free images.

Poor Upload Feature – Sure, Canva allows you to upload your own images, but you are limited from getting the best out of the image you upload. For example, you can't tweak the image to your liking – all you can do is a crop, flip and adjust the image. I hope they add more image editing features in the future.

No Videos – You must have realized how powerful videos have become and according to Cisco, videos could account up to 82% of the traffic by 2022. Canva Pro doesn't have videos, but there is some progress because they have introduced animations and GIFs.
Why Should I Use Canva Pro?
1. You Can Keep Your Brand Assets in One Place
Facebook posts with images generate the most audience engagement compared to those without images, according to Buzzsumo. Not only does Canva Pro provide extensive storage for your uploaded images, but it lets you access unlimited photos from as low as $1 from a stock media center that keeps advancing over time.
What's more, Canva Pro offers up to 100GB of storage for all your designs, granting you the flexibility of creating unlimited folders to help keep assembling things.
2. Lots of Premade Templates
If you're just starting and you do not have ideas yet on building graphics from scratch, Canva Pro will provide a wide variety of premade templates to help you get started. One breathtaking feature of Canva Pro is their in-depth choice of templates and pre-set sizes installed in one-click. These templates are already designed for users, and all that is left to do is modify your brand colours, logo, fonts, and images.
3. Ability to Resize Your Designs
Upon successfully designing your Facebook banner, you need to adjust it for Instagram or even MailChimp. It's also worth noting that one image size won't be compatible with every social media platform. With Canva Pro, resizing images for different platforms is dead simple. Even more, you can adjust the size of your graphics or dimensions for a variety of templates.
4. The Animator Tool is Incredible
Your audience tends to engage more with video content than written content. According to Social Media Today, 54 per cent of users seem to prefer video over any type of content. This way, you can expect the percentage to increase over time.
If you want to enhance your ad, try integrating your designs with animations and GIFs. Not only will these generate the most engagement, but they will also boost your search console.
5. The Possibility of Scheduling Your Media
With Canva Pro, you can incorporate the right template and schedule it directly from your account. Even more, you can plan your upcoming social media content to your preferred social networking platform. This is ideal for those who are working towards saving time when creating designs.
How Do I Use Canva Pro?
Hopefully, you're beginning to feel the significance of using Canva Pro after walking you through reasons why Canva Pro is worth the value for your money. But how do you use Canva Pro? Below are a few steps on how you can start using Canva right now.
First Step – Sign Up
Go to Canva.com, and register with either your Gmail address or Facebook account. Whatever option you choose, you will be prompted to give permission to verify either of the options. Please allow so that you can proceed to the next step.
To access Canva Pro, you will be required to try it for 30 days. You will have to leave behind your credit card details, but not to worry, you can cancel before you are billed in case you don't want to go with Canva Pro.
Second Step – Log in to Canva Pro
Once you have signed up successfully, you will need to login into your account and start creating your first graphic design. You can choose a template or design your graphic from scratch – it's your prerequisite.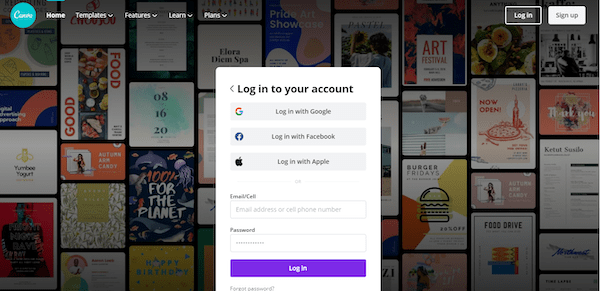 Third Step – Create Your Design
To find the template you are looking for, write your preferred design type in the search bar, and you will get search results. Choose the template you want, and you will be taken to a new tab to start designing from the template.
Once you are here, you can get a little creative with the template by tweaking a few elements to match your brand. The beauty is that you can even change the colors and the images if you want. However, there's no problem in leaving the colors and images as they are.
Fourth Step – Download
The next step is to download your graphic and save it on your computer. Additionally, you can choose to publish your design on whatever social media platform you want. Canva allows you to publish on Facebook, Pinterest, Twitter, or on your website. It also allows you to publish your design on some third-party tools.
Canva Free Vs Canva Pro
Canva Enterprise – Best Designing tool for Enterprises and big teams
Canva for Enterprise is made to help large teams and businesses collaborate and maintain brand consistency across every customer touchpoint. Try Canva for Enterprise free for 30 days at canva.com/enterprise
Canva Pro Pricing [US$12.95/month]
Canva Pro costs $12.95/ month, but you can opt for the annual billing, which trims down the cost to just $9.95 every month.
Canva Pro is basically for a small business, small team, and even solo entrepreneurs while the Enterprise plan is for larger teams who need advanced features and collaboration control.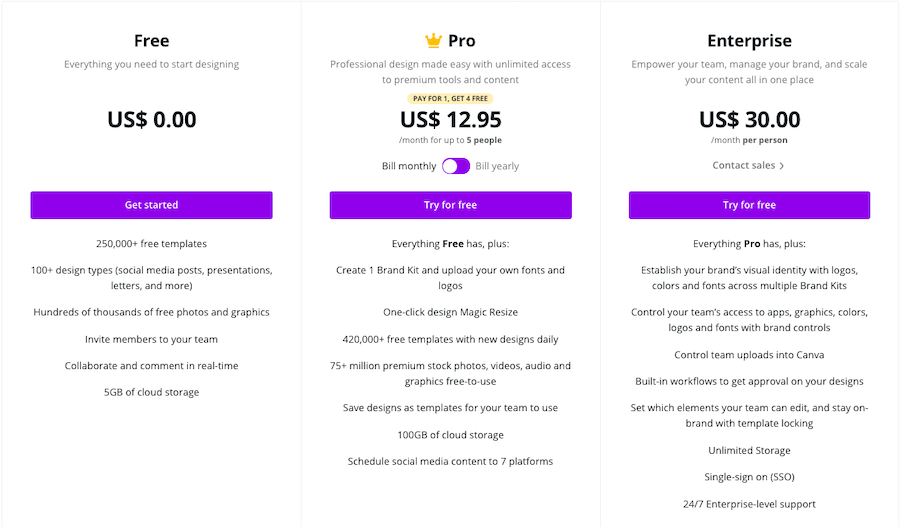 There is a free 30-days free trial of the Canva Pro, and I encourage you to give it a shot because you will have the freedom to use all the Canva Pro features without paying anything.
Within the 30-days free trial of Canva Pro, you can test out every feature and decide on whether you'll fully commit to it or cancel once your free trial comes to an end.
Quick Frequently Asked Questions
1. How Much is Canva Pro?
Canva Pro costs $12.95/ month when paid every month but comes down to $9.95/ month when billed annually. The best of all is a free trial period of 30 days if you want to try Canva Pro.
2. How Long is the Canva Pro Free Trial?
The free trial period for Canva Pro is 30 days. Once the free trial ends, you will be required to start paying the monthly subscription fee of $12.95 or bill the annual fee, depending on what plan you choose when going for the free trial.
3. How to Cancel Canva Pro?
You can always cancel your Canva Pro subscription by navigating to your account settings >> Billing and Teams >> Subscriptions >> Cancel Subscription.
4. Why Can't I Access Premium Photos with Canva Pro?
Premium photos will require you to purchase, depending on how they are priced. Sure, Canva Pros gives you access to lots of free-stock images, but that may not include some premium images.
5: How can I learn Canva?
Canva has a very user-friendly UI and even they've Knowledge Base and Canva Pro Tutorials on their Channel which can be found here.
Canva for Work Final Verdict
By now, you have decided whether or not Canva Pro is perfect for you. The truth is that Canva Pro is a good investment, worth more than the money you pay.
With lots of features, you can create lots of graphics to help you with your digital marketing needs. Plus, you get lots of features that users with free accounts don't have.
And the beauty is that you have the chance to use Canva Pro for 30 days without being billed. During this trial period, you can test out every feature and decide whether this design tool is for you.
This is why you need to drive the fear away, get your hands on your laptop and go for the free trial today – and now.
Also Check: Glorify App Review : Best alternative to Canva?