Surfshark vs. NordVPN is becoming an interesting VPN comparison in 2023. We've done some tests and compared both VPNs. Check which VPN topped our list in speed, price, features, customer support, policies, and a lot more. If you want to check out other Software reviews, do check our Buyer's Guide section.
The internet is a wide space capable of giving you all you want. However, there's often a price for such a service. 
Most times, it's not necessarily a stack of cash or even something you give consciously. Surfing the web comes with exposure to a variety of insecurities and data leaks.
You can't even keep what you do on the internet confidential without making extra efforts. Another is having to endure myriads of needless ads, a result of targeted advertisements from your information visible while online.
Beyond this, there are so many restrictions to services you can access, pages you can visit, and even speed limit restrictions. There are just so many holdups out there. This has made VPNs popular today.
Originally, Virtual Private Networks, VPNs were designed for businesses to be able to access their local network and files from a remote place, say when you're at home or on a trip.
VPNs Today
Today, however, VPN providers have had to include many other powerful features that can help you bypass many restrictions and keep you and your data away from prying eyes.
With over 400 VPNs available to choose from, it is important you know those worth your time, align with your specific needs, and more importantly, your cash!
Although, there are several trusted and well-established providers like NordVPN. This doesn't entirely mean these options are the best, as many newcomers like SurfShark have proven that they can match the game or even better it.
Today, a SurfShark Vs NordVPN 2023 comparison isn't exaggerated. It is worth looking at, as these two are some of the most popularly used premium VPN services.
I know you're interested in knowing what NordVPN offers over SurfShark and vice versa. This is exactly what you'll get in this post.
We have carefully curated features, speed advantages, streaming power, bypass strength and coverage, and pricing comparison to help you pick a winner, suited to you in the Surfshark Vs NordVPN battle!
Surfshark vs Nordvpn
NordVPN is a veteran in the VPN service space. It is touted to be the best VPN provider in 2023. You might think this is due to its long-term existence but if it's by that, we should all still be stuck with Windows XP or so.
In contrast to that notion, NordVPN offers one of the best VPN connections you can ever imagine. Its app features functionalities that others aren't even thinking of yet.
Its support for the OpenVPN, IKEv2 protocols, secure 256-bit encryption, very fast speeds, and responsive 24/7 live chat put it up there for others to look up to.
However, Surfshark has proven to be competitive, even though they are newer in the game. Surfshark claims to be an all-around VPN that can do almost everything at a cheaper price. Well, Surfshark matches nordVPN in many ways. Do read this SurfShark VPN review to dig further.
Surfshark Vs Nordvpn Features
Where nordvpn's CyberSec suite helps block malware and ads, CleanWeb from Surfshark does the same.  Data leaks and security are well catered for in both, with private DNS settings and kill switches available in both providers.
Nevertheless, there are distinct advantages of Nordvpn over SurfShark. The same goes for Surfshark over Nordvpn. 
One clear distinction is the massive server strength of Nordvpn over SurfShark – a whooping 5400 to Surfshark's 1700. Surfshark's most distinct advantage is in its unlimited simultaneous connection abilities, and price advantage over Nordvpn.
| | | |
| --- | --- | --- |
| Features | NordVPn | Surfshark |
| Simultaneous Connection | 6 | Unlimited |
| Operating System Apps | Windows, Linus, IOS, macOS, Android, Amazon Fire TV/Firestick | Windows, Linus, IOS, macOS, Android, Amazon Fire TV/Firestick |
| Manual Install Devices | Routers, Set-top boxes | Routers, Set-top boxes |
| Split Tunneling | No | Yes |
| Number of Servers | 5500+ | 1700+ |
| Server Countries | 59 | 63+ |
| Yes (Germany, the UK, US, and the Netherlands) | 30 days | 30days |
| Free Trials | No | No |
| Lowest Monthly cost | $3.49 | $1.99 |
| Main Location Selection | Map-based | List-based |
| Unblocking Streaming platforms | All (major) | All(major) |
| App Security | Kill switch (all platforms) | Kill switch (all platforms) |
| OpenVPN data encryption | AES-256 | AES-256 |
| VPN protocols | OpenVPN, IKEv2 | OpenVPN, IKEv2 |
| Anonymous payment options | Bitcoin, Ethereum, Ripple | Bitcoin, Ethereum, Ripple |
| Activity Logs | None | None |
| Connection logs | None | Some |
| Dedicated IP address possible | Yes (Germany, UK, US, and the Netherlands) | No |
| DDoS protection | No | No |
| NAT firewall | Yes | No |
| Live Chat | Yes | Yes |
| Address allocation | Shared | Shared |
| HQ base | Panama | The British Virgin Islands |
| Speed feature | Quick Connect | Quick connect |
| Ad & Malware blocking | CyberSec Suite | CleanWeb |
| Buy Now > | | |
Still, all these might not give you all you need yet to decide which is better for you. So, we'll be doing a side-by-side comparison based on what matters most.
SurfShark Vs Nordvpn speed, streaming power, security and ease of use, and breaking geo-block comparisons will be done in the next part of this review.
SurfShark Vs NordVPN Speed
The idea of a VPN is to connect you to remote servers. We know that the further the server, the slower the speed. Therefore, the VPN should try to connect you to the best and fastest speed possible.
The NordVPN's Quick Connect feature which automatically connects you to the server with the fastest speed available makes it one of the contenders for the VPN with the best speed.
With this feature, you don't have to choose any country, it picks it automatically, based on where the server with the fastest speed available is.
This feature is useful when you just need fast speed rather than accessing restricted content in your desired location. You can easily choose any of these options on the sidebar.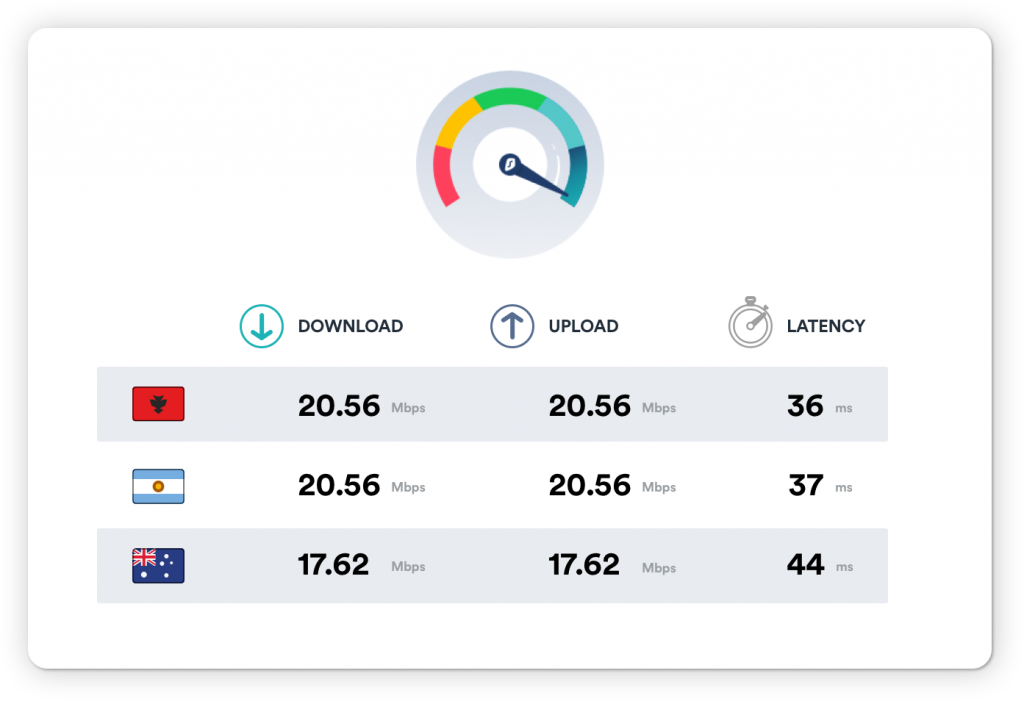 Although Surfshark has the same Quick connect feature, a test by Ariel Hochstadt of vpnmentor on NordVPN revealed over a 9% increase in speed, from 78.50Mbps local speed to 85.72Mbps on NordVPN connected speed from a London server.
Likewise, when a US server was manually selected, the same was experienced. Even though he was in the US, the NordVPN connected speed was still 6% better than the local speed.
With Surfshark a 9% increase in speed was noticed for a UK-based server while connecting from the US.
Nordvpn Vs SurfShark Long-distance Performance
For both, however, the real test is with long-distance connections.
When NordVPN was connected to a server in Vietnam, the download speed dropped to 47.13Mbps from 78.50Mbps. Although the download speed dropped, this is still a very good speed that can give you fast streaming with no lag, and a clear Skype call.
Surfshark also dropped from 40.92Mbps to 18.68Mbps when connected to a server in Frankfurt in Denmark in a test performed by Katie Kasunic.
When NordVPN was connected to a New Zealand server, a server at the other end of the world, a speed of 62.23Mbps was still achieved, an approximately 20% drop good enough for browsing and streaming HD content.
Likewise, Surfshark gave an impressive 13.31Mbps from 40.92Mbps when connected to a server as far away as Japan.
So, we can conclude that both NordVPN and Surfshark have very good speed enhancement abilities. So, they are both nice choices for streaming, torrenting, and downloads.
An average 19% and 20% speed loss for NordVPN and Surfshark shows how close they are and what they can offer you when looking at them based on a direct Surfshark vs Nordvpn speed comparison.  
Streaming – SurfShark Vs NordVPN Netflix Capabilities
One very catchy thing about VPNs is their geo-blocking features. Especially for movie lovers, accessing some Netflix packages from some regions is restricted.
Netflix USA is one of the most exciting, having the most libraries is desired by all movie lovers. However, it is highly restricted and available to only US citizens. But with NordVPN and Surfshark, there is no border!
Both NordVPN and Surfshark are perfect for the Netflix library unblocking. Although, NordVPN has more servers, it can unblock more regional Netflix libraries.
Aside from Netflix, these two VPNs can unblock almost all major streaming platforms like Hulu, NBC, SkyGo, Amazon Prime Video, BBC iPlayer, CBS, ITV, and Channel 4.
Although both still find it hard to bypass ABC, NordVPN edges Surfshark out in this streaming contest, as Surfshark is unable to unblock Eleven Sports while nordVPN can.
Streaming in China
When it comes to internet restrictions, China has the highest. They practically block their citizens from using many major services like Facebook, Twitter, Gmail, and Slack amongst others.
Even Netflix is not accessible when in China.
This makes VPN so useful and popular in China. So, looking out for VPNs that can perfectly geo-block all these services from government surveillance is very important. You might have a thing to do in China anytime.
NordVPN and Surfshark both work well in China.
For Surfshark, you just have to enable anonymous browsing using the NoBorders feature that can be easily accessed in the advanced settings tab.
While in NordVPN, there are dedicated obfuscated servers for China. You just have to select this from the app settings.
To however bypass the great Chinese firewall, you must first install these services on the dedicated Chinese pages for both VPNs.
NordVPN, however, has less power and responsiveness when it comes to services in China. Because it has a redirection page for China, it can be down for some time. This makes it impossible to access any Chinese-restricted content during this time.
With Surfshark, none of this is witnessed as there is a direct and seamless connection to China servers.
SurfShark Vs NordVPN Torrenting Capabilities
Another highlight of VPN is helping you torrent safely and anonymously.
Although torrenting isn't illegal downloading copyrighted material is. Your ISP and copyright trolls regularly monitor the BitTorrent network and can easily see your actions.
This could lead to throttling (slowing down your download speed significantly) or even legal sanctions.
The problem is you might not directly know which is legal or not, so, you should torrent using VPN. This allows you to hide your activity and access torrents anonymously.
Torrenting with Nordvpn and SurfShark
NordVPN is very effective for torrenting and has over 5390 P2P-optimized servers that work with almost all popular torrenting platforms. These servers offer unlimited bandwidth and data, and run a strict no-logs policy, making your activities unretained.
Surfshark is arguably one of the most reliable and secure choices for torrenting as well. It is compatible with almost all torrenting platforms, with its P2P servers optimized for fast torrenting.
Both VPNs perform in equal strength when it comes to torrenting. They both pass IP and DNS leak tests and have great encryption and no-log policies.
SurfShark vs NordVPN Pricing
Well, money matters!
Surfshark, the newcomer does better with pricing. This is one of its major selling points over NordVPN.
Although both have a starting price of $11.95, the multi-year discounts are where the difference is.
On a one-year cost, Surfsharf betters NordVPN's $83.88 by offering $71.88 instead. The two-year deal is $47.76 for Surfshark whereas nordVPN offers $119.76 which is almost triple Surfshark's deal.
This means Surfshark is better for a long-term subscription.
SurfShark and NordVPN App Compatibilities, Ease of Use and Security
The discussion isn't over if we don't look at how both VPNs are usable across platforms.
Nordvpn vs Surfshark Platform Compatibility
Both nordVPN and Surfshark are compatible with major devices like Android, IOS, macOS, and Windows. They also both have apps for smart devices like Apple TV and fireTV. Interestingly, the smart DNS features in both allow you to connect devices that originally didn't support VPN connections. This includes PlayStation and Xbox. 
Browsers Extensions
They also have browser extensions for Firefox and Chrome, whether on mobile or desktop. You can also use ad blockers with these extensions and enable Block WebRTC features to add web traffic leak protection.
In terms of ease of use, both NordVPN and Surfshark have a very easy setup architecture. Their apps have great GUI and are quite stable.
Although Surfshark has a better response time to a server and generally has better compatibility across most platforms.
Surfshark Vs Nordvpn Security
In terms of security, they are both fully packed. They both have updated protocols including L2TP, IKEv2, and standard OpenVPN. They have great control channels, data encryption, and authentication.
| | | |
| --- | --- | --- |
| Security | NordVPN | Surfshark |
| VPN protocols | PPTP, L2TP, IKEv2, OpenVPN | PPTP, L2TP, IKEv2, OpenVPN |
| Cloaking Technology | Obfsproxy | Shadowsocks |
| OpenVPN data encryption | AES-256 | AES-256 |
| App security | Kill Switch, DNS/WebRTC/IP leak protection, Wi-Fi | Kill Switch, DNS/WebRTC/IP leak protection |
| DNS status | Private DNS | Trust DNS |
| OpenVPN control channel encryption | RSA-2048 | RSA-2048 |
| Extra protection | Double-hop routes, onion over VPN | Cleanweb, whitelister, multihop |
| Connection log | None | None |
| Buy Now > | | |
Overall, Surfshark is still considered stronger because it has no history of being hacked, unlike NordVPN. Aside from that, they are both strong and have high data protection and security.
SurfShark Vs NordVPN: Which is best in 2023?
The main difference between SurfShark and Nord VPN is the number of devices connecting simultaneously. With Surfshark, you can connect an unlimited number of devices at once, while NordVPN only supports 6 connections. Overall, both services offer a wide range of features but NordVPN goes above and beyond in areas like coverage and security.
Although there are slight differences in some of their functionalities, Surfshark has proven to be a good competition for Nordvpn. If you're a long-term subscription kind of person, then, Surfshark will really be a good option for you considering the great price discount it offers.
Also, with no history of hacking, Surfshark is more trusted and performs just as well as Nordvpn.
Nordvpn's long-serving years and massive server count are something to consider as well.
All in all, we hope we have given you a reason to choose the best amongst the two, according to what we have curated for you. 
SurfShark Black Friday/Cyber Monday 2023
As of writing this, on Black Friday and Cyber Monday both VPNs are having a great offer for a limited time. Be sure to grab the best VPN discount using the links below.
If you're still confused between the two then try both the VPN and cancel one for a full refund. Both the VPNs come up with a 30-day money-back guarantee so you don't need to worry about anything.
SurfShark Vs Nord VPN? What's the main difference?
The main difference between SurfShark and Nord VPN is the number of devices connected simultaneously. With Surfshark, you can connect an unlimited number of devices at once, while NordVPN only supports 6 connections. Overall, both services offer a wide range of features but NordVPN goes above and beyond in areas like coverage and security.
Which country owns SurfShark?
The British Virgin Islands.
Does Surfshark keep logs?
No. Surfshark does not keep track of your online whereabouts or actions in any way.
Why is SurfShark slow on my PC?
Apps like anti-virus, file-sharing clients, or other VPNs might use the same tools and resources on your computer that Surfshark needs. That can potentially slow down your VPN connection. Disable those apps (at least temporarily) and see if that helps with the connection speed.