It is tough to find a budget VPN in the market these days. All the VPN are loaded with hefty prices and premium charges on the usage of extra features. So with the help of this SurfShark VPN review, we will help you to understand how a budgeted VPN can be the best choice for you. It comes with high functionality and technicality yet half of the prices of the competitive products in the market. So this is a win-win situated for everyone out there.
First, let's find out.
What is a VPN, and why do you need it?
A VPN stands for Virtual Private Network, and it is needed to create a secured connection so that you can browse over on the internet safe and secure. There are numerous benefits of using a VPN like are accessing restricted region sites which are geo-blocked from your place, entering into sections that are not allowed, shield your browsing activity, and even save yourself from the prying eyes which looms all over the internet. These days, there are a ton of VPNs which can help you to get all of the advanced features at affordable ranges.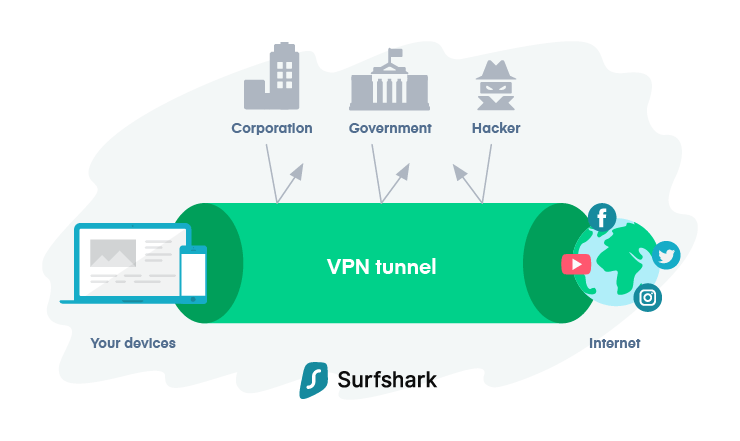 So why, SurfShark?
SurfShark is a new VPN that comes with over 1041+ servers across over 61 countries. And the best thing about SurfShark is that it is available on all platforms like Android, iOS, Linux, Windows, Mac, Smart TVs and even they've got browser extension for Chrome and Firefox. It comes with a strong and a collective essential and technicality of about AES 256 encryption and OpenVPN support, which no logs policy and a kill switch that can help you to protect all your current and private information when the connection drops.
We've tested SurfShark and It performed well overall in tests for speed, privacy, torrenting, and security, with only a few minor weaknesses. It's a multipurpose solid VPN which is giving a tough competition to the rivals like NordVPN and PureVPN in all aspects right from features to pricing.
List of features which comes with SurfShark
SurfShark has a lot of features that you usually find in a Premium VPN.
Clean Web surfing which means that there are adblocking features and helps to keep your browser history updated and modified. Pure web surfing also promotes and protects you from the prying eyes on the web, which is looking around all the time.
Unlimited devices can be connected with one server. So SurfShark can protect more than one device at a time. It helps with the time constraint and even saves a lot of effort. According to a Reddit user, "I have been sharing it with my family members in total on nine devices. As far as I am aware other VPNs do not offer this".
It is a whitelisted VPN which can allow specific apps and websites to bypass the source of the VPN. Works great when you are connected with the various mobile and banking apps from all around.
Camouflage mode is activated, which makes that the internet provider cannot identify the type of VPN you are using. Basically, with the camouflage mode, you can be untraceable on the web. It is a super-effective way to keep away from the crowd.
Multi hopping feature helps you to connect with different countries all at once so that you can protect your ID and create a footprint masking.
With the help of the No borders mode, you can successfully log into the restrictive browsers, which are geo-banned. SurfShark helps to have a fun time and provides internet usage for everyone.
Pros of using SurfShark
Like most other VPN connectors, SurfShark is extremely safe for you to use. It offers the consumers probable management to keep their browsing history updated, and their security is at their disposal.

It comes with excellent protocol selection, as well. To accept this feature, SurfShark uses a ton of protocols, and they have OPENVPN with the use of IKEv2 as well.

The data which is transmitted with the help of the VPN tunnel is kept safe and secured with the usage of the encryption that SurfShark uses.

When you connect online, then there are logs that are kept by your server. Using SurfShark will ensure that there are no logs kept to your device. The information which is collected is mainly the IP address, traffic, and all those which can be used to track someone. So SurfShark makes the feature enabled so that you have private browsing.

As always, SurfShark comes with good speed too. With several critical locations from all around the world, it helps to connect fast and in a steady manner.

SurfShark has a global and robust server presence. It covers more than 1000 servers in the whole of the world, which makes it so widely available for usage.

And another one of the prime things about SurfShark is that you can smoothly stream the geo-blocked and banned contents on the web easily like Netflix or BBC iPlayer.

24/7 live chat support or a ticket request system in the case, you face any issue using the service.
Cons of SurfShark
To be honest, I didn't find any cons of using SurfShark as of now. SurfShark has completed all my VPN needs. It's fast, safe (no DNS leak), has inbuilt adblocker and I've just loved its the minimalist user interface on all devices. 
SurfShark Vs NordVPN, PureVPN & Others.
What about SurfShark Pricing?
SurfShark is running huge Limited time Sale where you can save 85% on 2-year plan for just $47.76 (Just $1.76/per month) and also you get 1-month free.
Click here to grab the deal.
Wanting to try out SurfShark? Well, here is the laid out plan for the pricing which comes for the users.
SurfShark offers a various subscription plan which you can choose according to your need. Each subscription plan comes with all the premium features.
VPN is something you should use every day while you browse the Internet so I would recommend you to go with annual plans where you can get this Premium VPN at a very affordable price. Check the below pricing table:
Wondering what payment methods does SurfShark supports?
SurfShark supports all the major payment methods, including:
Major credit cards (American Express, Visa, Mastercard, Discover)
PayPal
Alipay
Amazon Pay
Google Pay
Cryptocurrencies (Bitcoin, Ripple, Ethereum)
Does SurfShark have a free version?
Sadly, this premium VPN doesn't offer any free version or FREE trial but you can still use the generous refund policy to try out the service.
Surfshark's Refund Policy
SurfShark has a 30-day, money-back guarantee on all subscriptions. No question asked!
Within 15 days of purchasing a SurfShark subscription plan, you will receive a full refund if you submit a support ticket asking for your money back.
After 15 days, you may still be able to receive a full or partial refund if you encounter an issue that the support team is unable to solve.
How to get started with it?
SurfShark is extremely easy to start and manage. First signup and select a plan which suits you the best and post-payment, you'll receive all the information in your email with the download link and manuals. As mentioned earlier, SurfShark is compatible with mostly all the devices and platforms right from PC(Windows, Mac, Linux), Smartphones (Android, iOS), TV (Fire TV, Apple TV), Browsers extension (Google Chrome, Firefox) and even Xbox and PlayStations.
Wrapping it up
| Features | Details |
| --- | --- |
| Number of countries with servers | 61 |
| Number of servers | 1041 |
| Number of IP addresses | 500 |
| Does VPN keep logs? | No |
| Does VPN include a kill switch? | Yes |
| Number of devices per license | Unlimited |
| Website | www.surfshark.com |
Surfshark offers an impressive service, especially for a relatively new provider. If you're looking for a fast, reliable, and secure VPN for streaming, torrenting, and protecting your privacy, Surfshark is an excellent option. SurfShark has been featured on top publications like TechRadar, PCMag, PCWorld and more.
Surfshark offers an impressive service with competitive prices and very few weaknesses. It includes all the main features you'd expect from leading VPNs who've been in business much longer.
Surfshark is especially worth considering if you're looking for a long-term VPN, because of the budget-friendly deals offered on longer subscriptions.
For a limited time, SurfShark is running limited time sale where you can save 85% on annual plans, click here to know more.
FAQ
Is there ongoing deal on SurfShark now?
Does SurfShark work in China?
Yes, most users report that Surfshark does work in China.
Is Surfshark Good for Torrenting?
Yes, P2P file sharing is fully supported on all servers, and the majority of servers in the network are optimized for torrenting.
Does Surfshark Work with Netflix?
Yes. It's an excellent VPN for accessing geo-restricted content on Netflix.
Does Surfshark Keep Logs?
Does SurfShark Offers Money Back Guarantee?
Yes, 30-days money back guarantee. No question asked.