Update: Both Ledger and Trezor are running New Year Sale where you can get massive discounts on their hardware wallets. Scroll to pricing section in this article to know more about discount and promo code.
Cryptocurrency seems to be the future of payments that is currently on the rise. This is a type of currency that is accepted through digital modes of transfer and can be transferred to other people easily with few clicks.
To keep your balance secure, the industry has developed several ways to make sure that your crypto assets are secured. One way is securing your private key, which is the main resource, required to do any transaction, on a cloud-based wallet. This method is efficient but not as effective as there is a greater risk of getting your private key stolen than the other method.
The other method includes keeping your private key with yourself in a physical hardware USB-type wallet. This wallet stores your private key on it and whenever you have to make a transaction, just plug this device in and make your transaction. This not only eliminates the risk of getting your private key stolen but also keeps the amount in your wallet secure.
Now, for this article, we are going to go through the best physical wallets in the industry, Trezor, and Ledger, and help you make an educated decision on which one to choose and which suits best for your needs.
Now, before proceeding, I would like to ask you a question? Do you want to earn passive money with crypto without selling it? It's the same as you're storing it in your hardware wallet but here you're earning a high-interest rate (up to 12.68% APY) automatically on your coins. You should check Vauld – a Singapore-based crypto platform. It enables customers to buy, lend, borrow and trade crypto assets from one unified platform. It's most widely used as a crypto lending platform as it offers a high-interest rate on a lot of coins. If you're new to Vauld, you can signup using a Vauld referral code and earn an extra interest-rate and signup bonus.
Trezor Vs Ledger Wallet
We are going to show you a brief description of the wallets along with their respective features and in the end, provide the pros and cons of both the wallets so you can decide which ones are the best for you.
Trezor is a product created by a Czech Republic-based company SatoshiLabs. Their main aim was to prevent hackers to steal their consumers' private key and for that, they have developed this hardware wallet that keeps your private key offline and in your control. This company has been known in the cryptocurrency space and has been adding more and more features to their existing products.
If you are a long time cryptocurrency user, you would have knowledge about Slushpool which is a mining pool developed by the very same company. This mining pool is pretty popular in the crypto space and that is why this company has a great reputation.
Started in 2014, Ledger was a product of a French company with the same name. This company has personnel from backgrounds related to cryptocurrency and embedded security. Just like Trezor, their aim was also to make the crypto space secure by bringing out technologies that could help consumers secure their wallets.
With that mind, they launched Ledger wallet in 2014 which received a very warm welcome and it gradually got upgraded with new features and design and currently, it is called the Ledger Nano S. This success had made the company sell more than 1 million units of the wallet in more than 165 countries. The company recently launched Ledger Nano X, which is more secured and compact.
Trezor Vs Ledger: Differences
Number of Coins Supported
The following are the number of coins supported by Trezor as of writing this, both the companies keep adding new coins. Check all supported coins by trezor here.
Bitcoin

Litecoin

DASH

Zcash

Bitcoin Cash

Bitcoin Gold

Ethereum

Ethereum Classic

ERC-20 Tokens

Expanse

UBIQ

NEM

Namecoin

Dogecoin

Testnet Bitcoin
While Ledger has the following number of coins on its list. Check all the supported coins here.
Bitcoin

Bitcoin Cash

Ethereum

Ethereum Classic

Bitcoin Gold

Litecoin

Dogecoin

Zcash

Ripple

Dash

Stratis

Komodo

Ark

Expanse

Ubiq
As we can see from the list, the Ledger wallet wins the first round of the best hardware wallet battle.
Physicality
The Trezor Wallet is entirely made of plastics with two buttons located at the front of the device where the display rests. These two buttons are used to control the functions in the software. The display on this wallet is quite bigger than the Ledger's and that makes it easy to view your private key or any other information.
In the case of Ledger Nano S Wallet, it looks more like a USB thumb drive and also has two buttons. But the differentiating factor is the Ledger Nano S Wallet is made from stainless steel rather the plastic. This gives it better durability and longevity. The display on this wallet is smaller than the Trezor making it somewhat difficult to view any information on the screen.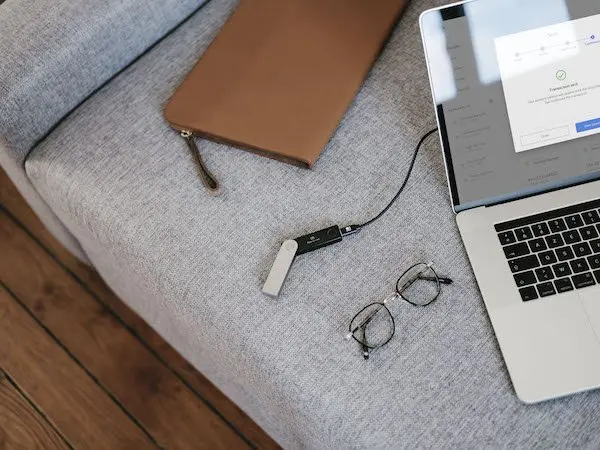 User Interface
The user interface of both the wallets is pretty minimalistic with the use of light colours that go well with the whole page. In terms of setting up, both the wallets have the same requirements. The first step is to set up a PIN code and then you have to write down a backup of your recovery seed. This recovery seed acts as a security question for your wallet so that if you ever lose your private key, then typing this recovery seed would help recover it.
On the app support front, both the wallets have phone apps which means you can use them directly from your phone. Another great thing is that you can also sync your data with Dropbox and other services.
Trezor's User Interface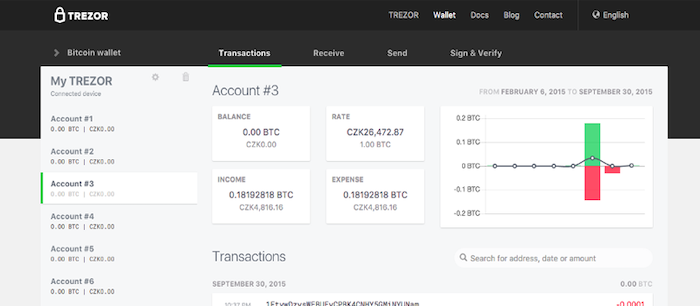 Ledger Wallet's Interface
You can also use other independent wallet apps to have access. The list for both wallets in mentioned below
Trezor:
Electrum

MyEtherWallet

Mycelium

Copay Yes

GreenBits

MultiBit HD

MyTrezor
Ledger Nano S:
Electrum

MyEtherWallet

Mycelium

Copay Yes

GreenBits

Ledger Chrome
Security
In terms of security, both of these wallets have top-notch security with advanced levels of security methods. First one is the recovery seed/recovery phase for the wallets. These act as a security question for your private key because if in any case your private key lost, broke or got stolen, this is the thing that will save you and your coins.
Another layer of security is also present in the name of "Passphrase". This gives you an option to set up a word or a bunch of letters as a passphrase as the last resort. If you somehow do not know or remember the passphrase, then, unfortunately, all you hard-earned coins are not coming back to you unless you remember it.
Cost
The price of Trezor's latest wallet Trezor One is 49 Euros or around $54. You can go to the official website and check out.
The price of Ledger's latest wallet Nano X is around $119. You can go to the official website and check out. They also run promo from time to time wherein you get a good discount. Check if they're offering any discount here.
Trezor Wallet Vs Ledger Nano S: Pros and Cons
Trezor Wallet
Pros:
Better app support

Easy to operate

No chips inside the device meaning less risk

Better Independent wallet app support

Easy to set up
Cons:
Made from plastic

Might not fit into pockets or wallets

Less Coin support

.
Ledger Nano S
Pros:
Made from stainless steel

Small and compact

More number of Coins support

Minimalistic interface

Cost-effective
Cons:
Less number of independent wallet app support

Bad button placement makes it slightly difficult to operate

.
Final Verdict
So, I have covered all the details about both the wallets that would help you make an educated decision about which hardware wallet to get.
Both of these wallets have their strong points like Ledger Wallet has more Coins support than Trezor and is made from stainless steel. While Trezor has more number of independent wallet apps support and is free from chips so that communication is reduced to minimize the risk. Both of the companies have device setup videos (Youtube) and tutorials to get started and troubleshooting.
If you ask me personally, I would grab Ledger's latest product Ledger Nano X due to its slick design and robust security.
Where Should you buy hardware wallets?
For buying, I would recommend you to buy from the official website only for security reasons. You can even pay through Bitcoin on their official stores. It may cost you a bit extra if you're from other countries like India wherein you may also have to pay customs fee but it's all worth if you get a genuine untouched wallet.
In the end, whatever wallet you choose, you would have the security of keeping your private key out of hackers' sight and in your pocket. Now you don't need to go to store your private key on any cloud-based wallet. You can access your wallet at any time now.
Do you think you are going to get either one of them? Or you have any other option in mind? Do leave your comments down below with your valuable feedback.
FAQ
What are CryptoCurrency Wallet?
A: cryptocurrency wallet is a program or a device that stores your public address and private key. It can also be used to receive and spend your crypto.
What are Hardware Wallets?
A: Hardware wallets are physical devices, which act as a flash drive and store your private keys. The device is secure enough that you can even use them with a device you don't trust.
What is a Hot Wallet?
A: Crypto wallets that are actively connected to the internet. While it is easy to transact using these wallets, they are vulnerable to hacks. Exchange wallets, mobile wallets, and desktop wallets are examples of hot wallets.
What is a Cold Wallet?
A: Cold wallets are crypto wallets that are not connected to the internet and hence safe from hack attempts. Paper wallets are an example of cold wallets. The idea is that if you want to store away and hold on to your cryptocurrencies safely, then you can use a cold wallet to keep them safe.
What are top Hardware Wallets?