What are Crypto Airdrops? How to Find Legit Crypto Airdrops to Get Free Tokens and Coins?
Since the Bitcoin mining and trading phase, cryptocurrency has become the buzz word. For those who do not know, cryptocurrency is an online currency that can be exchanged for real currency for its designated value. This value fluctuates every day just like stocks. The exchange of these currencies is done online and there is no middleman involved.
Nowadays, aside from Bitcoin, there are many kinds of cryptocurrencies available. The craze of cryptocurrency rose when, back in the day, Bitcoin saw a major increase in its value where 1 BTC (Bitcoin) = ~$19,783. The reason for this rise was the increasing demand, investors interests, and other factors.
But now, let us get back and know what crypto airdrops are and how to find the legit crypto airdrops by which you can get free crypto tokens or coins all for FREE.
What are Crypto Airdrops?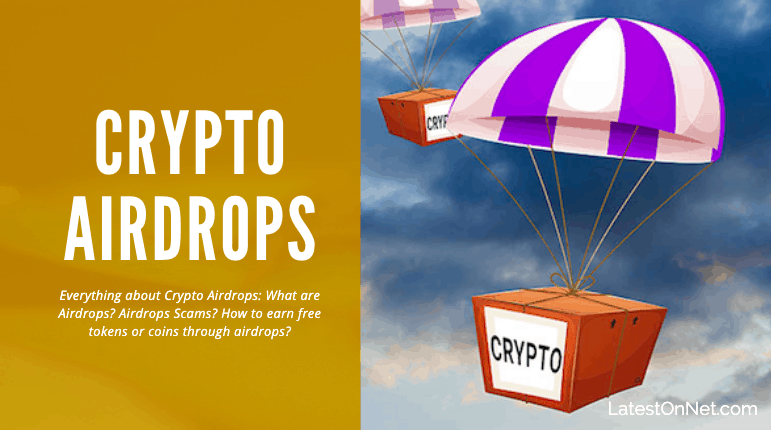 A crypto airdrop is essentially a method of distribution of cryptocurrency tokens or coins to a large number of individual wallet addresses. These are usually free and are done so that the new crypto startup can create a buzz of their project, get the initial user base who just might end up being real customers, raise awareness about their project and raise capital obviously. 
This is one of the low-cost advertising for the new crypto startups as users have to do certain tasks in order to get their tokens and coins like following them on twitter, joining their telegram channel, creating the wallet of their new project, subscribing to their email newsletter, etc. This varies from project to project.
It's basically a win-win for both the parties here. The startup gets the initial users to test their project at the lowest cost and the users get the free tokens and coins which they can sell later if the project listed on crypto exchanges.
Most of the crypto airdrop campaigns have referral bonuses where you would get bonus tokens or coins whenever you refer someone to the particular airdrop. You'll receive your unique link once you join a particular airdrop campaign and if anyone joins using that link then you would get free bonus tokens or coins.
What are the requirements for getting free crypto tokens through airdrops?
The first and foremost thing is to ensure to have a wallet where the BlockChain Project will forward the free coins. Most of the Airdrops are based on Etherum BlockChain System and for this, you need ERC-20 (Ethereum Request for Comment)  wallet where you can store your airdropped free crypto coins. MetaMask or MyEtherWallet are two most popular ERC20 wallet. Visit their site and create a wallet, note down your Wallet address, safely save your private keys and never and ever SHARE your private keys with anyone.
Never enter your Crypto Exchange Ethereum Address to receive Airdrops tokens like 
Binance
, Bittrex, etc. It won't work.
A Telegram Account (https://telegram.org): Most of the Crypto Projects will ask you to join their official Telegram Channel in order to qualify for getting free crypto coins and tokens. Don't leave the Telegram accounts until you receive the coin in your Ethereum Wallet or you risk disqualification for the airdrop.
A Twitter Account (https://twitter.com): Now, many of the Airdrops will ask you to follow them or retweet their post in order to qualify for their airdrops. So, make sure you're active there.
An Email Address: You definitely need an active email account as many of times you Crypto Projects will ask for it and you need to verify it as well. We'll recommend you to create a separate email account for the Crypto Airdrops so that you can easily track all of them.
How to Find Legit Crypto Airdrops to Get Free Coins and Tokens?
Now, not all the crypto airdrops are legit. Recently, many of them are reported as scams. While participating in crypto airdrops seems to be a good option but you have to be aware of the scams and flaws that are trending in the industry. Here are some of the common airdrops scams: 
In this kind of airdrops, the developer aims at generating a short-term buzz for their token. This creates an environment of eagerness for the consumers to buy the currency when it hits the exchanges. After it hit the shelves, the developer would sell all of their currency quickly or dump them quickly. After the currency has been dumped, they disappear from the internet and the project of theirs becomes inactive. This would eventually make the currency worthless and make it unprofitable to buy it. But, this benefits the developer financially who are planning to develop the currency that one time only. One of the best examples of such kind of airdrop was EDOGE in 2017.
This is another type of scam that you should be aware of. In this method, the crypto project would request you to give some of your personal information to them like your email address, wallet address, social media information, and more. After getting all of these or some, they sell this information to third parties for profit. They also try to use this information for future phishing scams. So, before participating in these kinds of airdrops, do your all research so that you don't land up in a phishing scam. Make sure the airdrop in which you're participating has a website and whitepaper, not just social presence.
This scam method can be very annoying. In this method, when you sign up for a drop, some of these sites ask you to sign up for their partner drops. These can be seen as referral signup links. But in reality, these are not real partners. This is a way of generating referrals and signups for their drop. If you sign up for these, you would get spam and utter nonsense emails that you might not even bat an eye. These are just developers' ways to create more signups.
This scam can become the most dangerous if you are not careful. This scam involves tricking you to give your Private Key to your wallet. These would lead to the developer stealing from your crypto wallet. This is because some of the developers try to trick new users who are into the crypto game and trick them to give their private key so that they can access them and steal any amount if it has. A genuine airdrop would ask for your wallet's address but not your private key. So be aware and never give your private key.
Now, you'll say how to find legit crypto airdrops?
Well, thanks to the web portal like AirdropAlert and Airdroply.com, you'll only see the legit active airdrops on their websites. The crypto airdrop sites like these, only list the manually verified airdrops. So, there's no chance of landing up for a scam airdrop.
Wants to earn FREE Bitcoin [BTC]?
Do check out this article where we've covered step by step on how you can earn free bitcoin, the legit way.
Conclusion
To conclude this article, I would say, Crypto Airdrops airdrops are a fun way of getting into cryptocurrency and finding out about new blockchain projects. Every once in a while an airdrop can also be hugely profitable. My advice is just to hold onto to airdrop tokens on the chance they become valuable in the future, or at least worthy enough to sell for a decent amount of BTC or ETH during the next bull market. I would also recommend taking a look at the project behind an airdrop to see if it has any chance of succeeding. If the project looks genuinely hopeless, I would pass, no matter how many tokens are being given away.
Do you participate in crypto airdrops? Do comment below your favorite active airdrop campaign?
References:
Airdroply.com