Are you planning to set up a personal website or a web portal for the product you're going to launch? Didn't find your name or favorite domain available in traditional TLDs (Top Level Domain) like .com and you don't want to go with other domain extensions like .net, .org etc.? Here is an excellent solution for you: Yes, you can go for domain hacks like Del.icio.us  and bit.ly. Domain hacks are short, unique and memorable names. Now, the question is how to the unconventional domains like Delicious and bit.ly?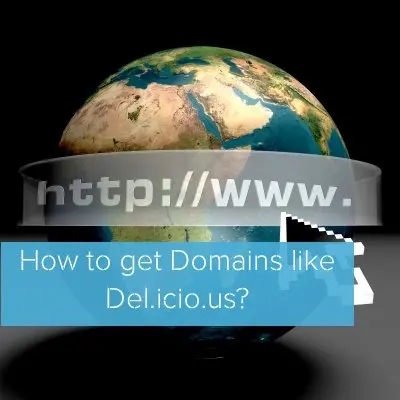 What does this mean?
This means that you can try out different permutations and combinations for finding a memorable domain name for your personal website or blog. Basically, you use all the domain extensions available to spell a word. Let's take the example of Del.icio.us which spells "Delicious". But how did they do this? They just purchased icio.us (.US Extension) and created a subdomain as Del which makes it as Del.icio.us 😉 Domains like bit.ly and Del.icio.us are completely valid if you're not targeting a particular country. So, when we see it from the perspective of SEO,  it may impact your website traffic. But, now lets understand how to get a domain like a bit.ly? Luckily, there are some domain tools available online which can break your name and then auto try with all the domain extension available to make it a complete word like bra.tt for bratt. (Here .tt is the extension of Trinidad and Tobago.) Some of my favorite domain hacks are – Inter.net, blo.gs, and go.to.
Let us explore some of the best domain hack tools available:
Domain.r
Domain.r is the one of the best domain hack tool available online. This allows you to find the short, unique domains like bit.ly and the best part is you can register for their portal itself. All you've to do is, just enter your keyword and domain.r will list all the possible combination of domains.
Xona
As mentioned earlier, this concept of finding domains like del.icio.us is termed as domain hacks and the idea behind is to spell the domain names as against appending them with traditional extensions like .com or .net. Here, Xona is another domain hack search engine that calculates all the possible permutations and combinations of domains. Xona also has a suggest domain hack page where you can find more than 300K domain hack suggestions. You can find the suggest page here > https://xona.com/domainhacks/suggest/
Now, after having understood the sources from where you can find domains like del.icio.us, you might be thinking, why this type of service should be used and here are some details:
Why use a domain hack?
When you are planning to use such a service, it is important to consider the strengths of such a strategy.
The scarcity of .com: The right and suitable .com extension for your domain may be long gone. Even when you reach out an owner with a suitable .com domain name for your website, he might be charging a huge sum of money for the same, which might be far outside your budget or even some owners might be simply unresponsive for your request. On the other hand, domain hacks will come at a relatively affordable cost.
Branding: If you are looking for domains like bit.ly for your business, the domain hacks service can be of great help in accentuating your brand. This type of service will give a sense of modernity to your website.
Shortening of URL: This benefit is specifically popular among big brands, who are looking for a branded short URL for using them on social media sites. For instance, Google has goo.gl for URL shortener for the users. Facebook has fb.me for as URL shortener.
Buying a new domain? Here's the exclusive offer for you!
Grab any .com domain at just 0.99$ from Godaddy. Click this link to avail the discount. Note, this is valid only for first-year registration.
Conclusion:
The point to remember when you are planning to find short domain names like del.icio.us, is that these names can be the most valuable alternatives as a secondary marketing strategy, while maintenance of a more traditional domain for your main address. Do let us know which is your favorite domain hack in the comments.